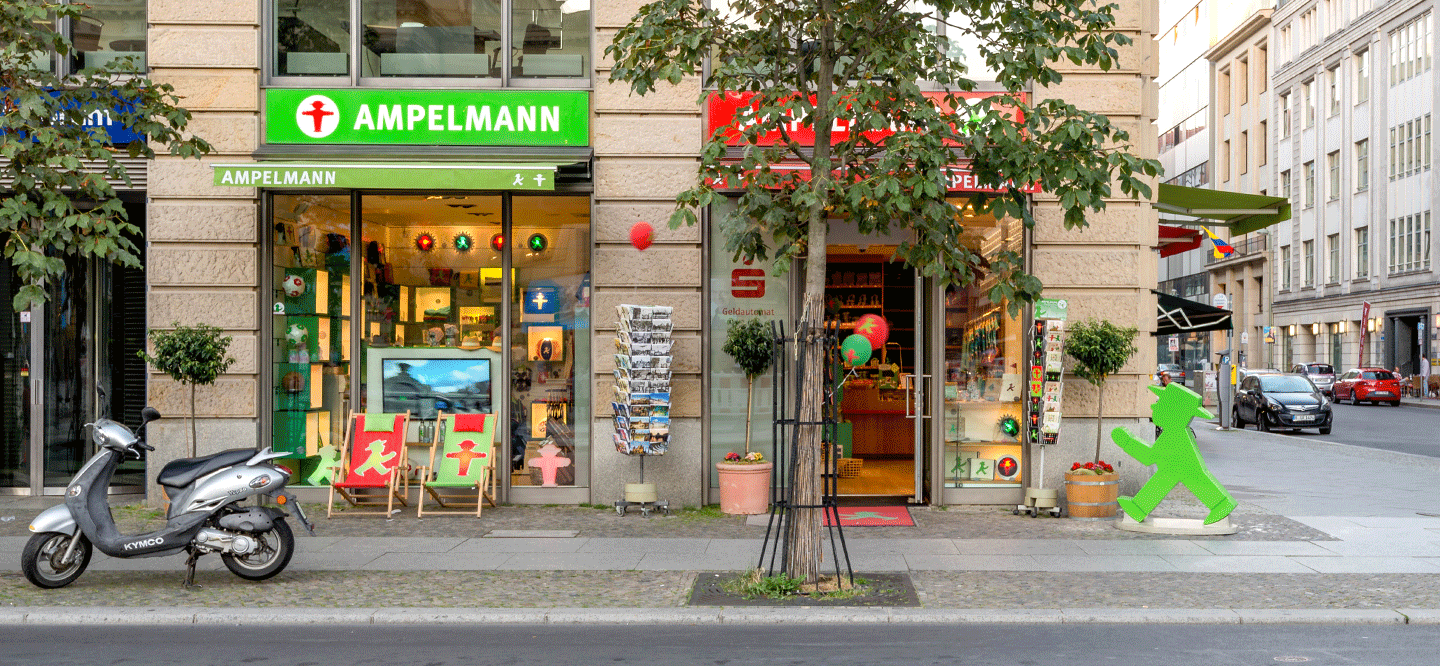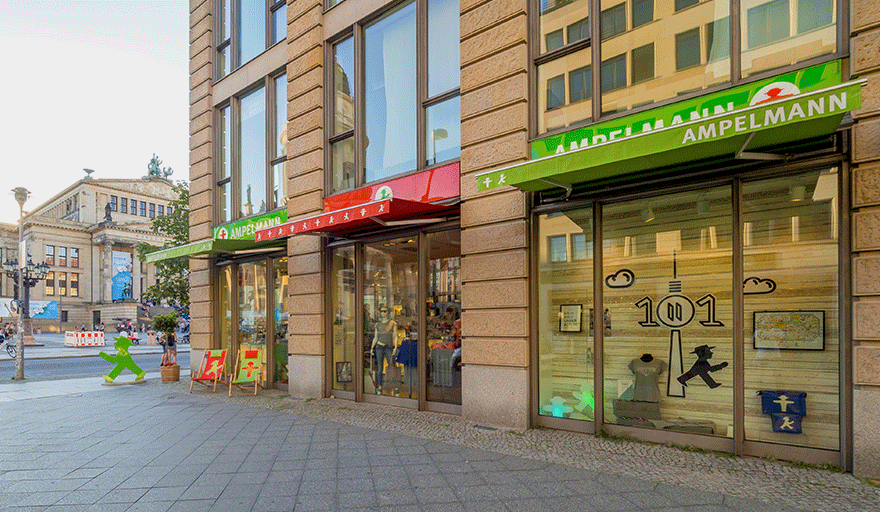 AMPELMANN Shop at Gendarmenmarkt
---
The Gendarmenmarkt is considered one of the most beautiful squares in Europe. Three white buildings shine in their new, old historical splendor: German Cathedral, French Cathedral and Concert Hall.
Baroque splendor, wide staircases and a clear, bright area soothe the eye and make you want more. No problem: maybe a visit to the Rausch Chocolate House?
In winter, the most glamorous Christmas market in our city is here. You can shop elegantly on the nearby Friedrichstraße, the magnificent, classic shopping mile in the eastern center, the traditional counterpart to the Ku'damm in the west. The most important addresses here include the Galeries Lafayette with French fashion, perfume and delicacies as well as the art and fashion arcades Quartier 206 and Quartier 205; they are connected to each other by tunnel passages and together form the Friedrichstadt Passagen.
But first to AMPELMANN!
With a view of the concert hall, the AMPELMANN shop on Gendarmenmarkt between the historic buildings is a red and green eye-catcher. Embedded in history, between imposing architecture, our cult figure feels just as comfortable as our international customers.

AMPELMANN Shop
At Gendarmenmarkt
Markgrafenstraße 37
10117 Berlin
Telephone
+49-30-400-390-95

OPENING HOURS
Monday– Saturday
11:00-19:00 Uhr
Sunday und public holiday
13:00-18:00 Uhr
Meet our #teamampelmann!

The shop team makes our six AMPELMANN shops very special. They are there for you 7 days a week/365 days a year, so that you all have a chance to browse through the AMPELMANN world and take a little bit of Berlin home with you.
True multitaskers work in the shops: shopping consultants, AMPELMANN storytellers, Berlin insiders, brand ambassadors and souvenir photographers. They are happy about every single visitor and are happy to help with the selection.